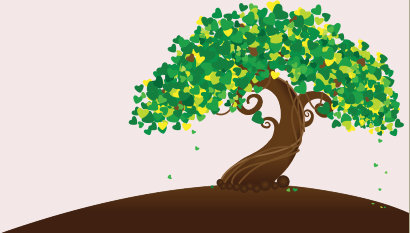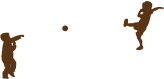 Teatro Interactivo en Inglés
Ñu
Accents
Interactive Theatre in English

Más de
95.000
niñas y niños en la Comunidad de Madrid han aprendido inglés con
Ñu
.
Our shows for the infant school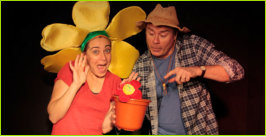 Farm Fun
For 3 & 4 years old
Meet our friendly flower and watch how flowers
grow. Be fruit and vegetables on our very funny
farm.
Farm Fun is an original story about a rebellious
flower who wants the farmer to find her some
new friends.
Pyjama Party
For 2 to 4 years old
Have fun with us at our pyjama party. Together
we will travel to where our dreams take us.
Another original story about two friends who
decide to have their pyjama party at your
school. There they dream about flying high and
swimming the oceans wide.

Magic Zoo
For 2 to 4 years old
Visit our Magic Zoo. Talk to the Animals.
Sing and dance and learn with them too.
Probably our most popular show. Our magic
zoo comes out of a box to let your kids play
for a while with the animals. And feed them
too.
SEE MORE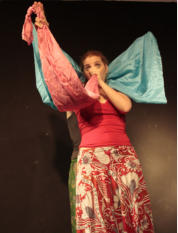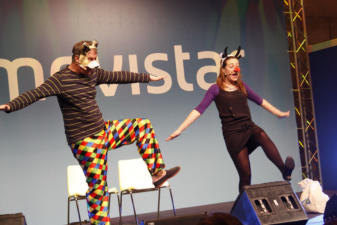 The Three Little Pigs
For 4 to 5 years old
Learn English with a happy cow and a naughty wolf.
We'll tell you the famous story of The Three Little Pigs, but
not quite the same as the one you are all used to hearing.
You will have to help us tell the story as well.


In the infant school our shows are simple and very visual. Likewise the performances are compact and
intimate, we can perform in the class room. We work with groups of up to 30 boys and girls and the shows
run for 25 minutes. We can do up to 6 performances a day and our prices are very reasonable.


Teatro interactivo en inglés para niños en colegios y escuelas infantiles
/Interactive theatre in English for kids in schools and kindergartens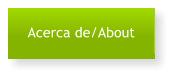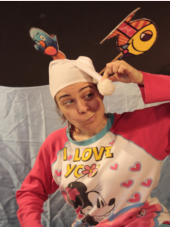 Bubbles
For babies (0-2 years old)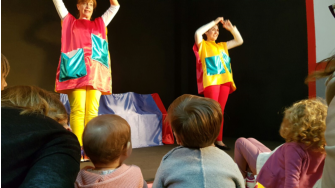 Our new fun interactive show is for babies.
We play with sounds, movement and songs in English
and the babies can play with our balloons, cloths,
and bubbles.

Chicken Little
Chicken Little thinks the sky is falling.
She decides to tell the king, and looks for
friends to help her on the way.